Toshiyuki Shimada
Director - Yale Symphony Orchestra - On Leave 2018-2019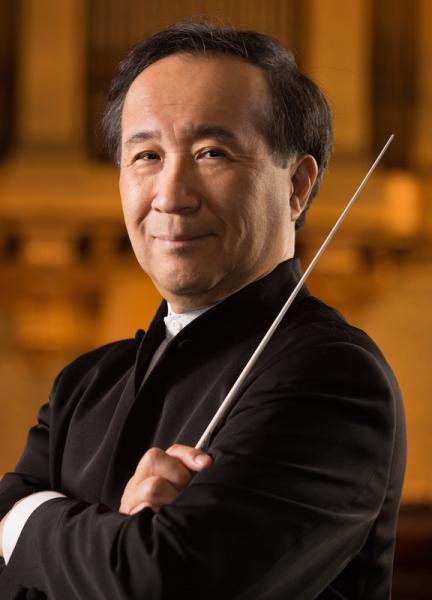 TOSHIYUKI SHIMADA is Music Director and Conductor of the Eastern Connecticut Symphony Orchestra in New London; Music Director and Conductor of the Orchestra of the Southern Finger Lakes; and has been Music Director of the Yale Symphony Orchestra of Yale University since 2005. He is also Music Director Laureate of the Portland Symphony Orchestra in Portland, Maine, for which he served as Music Director from 1986 to 2006. Prior to his Portland engagement he was Associate Conductor of the Houston Symphony Orchestra for six years. Since 1998, he has also served as Principal Conductor of the Vienna Modern Masters record label in Austria.
Maestro Shimada has been a frequent guest conductor with a number of international orchestras, including the Lithuanian State Symphony Orchestra in Vilnius; La Orquesta Filharmónica de Jalisco, Guadalajara, Mexico; the Moravian Philharmonic Orchestra; the Karlovy Vařy (Karlsbad) Symphony Orchestra; the Prague Chamber Orchestra; the Slovak Philharmonic; NÖ Tonkünstler Orchestra in Vienna; L'Orchestre National de Lille in France; and the Royal Scottish National Orchestra at the Edinburgh Festival. He has also guest conducted the Houston Symphony, the Honolulu Symphony Orchestra, the Chautauqua Symphony Orchestra, the San José Symphony Orchestra, the Boston Pops Orchestra, the Pacific Symphony Orchestra, the Edmonton Symphony Orchestra, and many other US and Canadian orchestras. In May and June, 2010, the Yale Symphony Orchestra and Maestro Shimada made a highly successful tour to the Republic of Turkey, performing in Istanbul, Ankara and Izmir. The trip garnered extensive media coverage, including CNN and Turkish National Television. In 2008 the YSO toured Italy, performing in Rome, Florence, Bologna and Milan. This past spring Maestro Shimada was invited to conduct the United States Coast Guard Band, following guest conductor Leonard Slatkin.
In addition to these activities he has held the position of Artistic Adviser of the Tulare County Symphony Orchestra in California, and served as Music Director of the Nassau Symphony Orchestra in New York; the Cambiata Soloists, a contemporary music ensemble in Houston; the Shepherd School Symphony Orchestra at Rice University; and the Young Musicians Foundation Debut Orchestra in Los Angeles.
He has collaborated with distinguished artists such as Itzhak Perlman, Andre Watts, Peter Serkin, Emanuel Ax, Yefim Bronfman, Idil Biret, Peter Frankl, Janos Starker, Joshua Bell, Hilary Hahn, Nadjia Salerno-Sonnenberg, Cho-Liang Lin, Sir James Galway, Evelyn Glennie, and Barry Tuckwell. In the Pops field he has performed with Doc Severinsen, Willie Nelson, Johnny Cash, Marvin Hamlisch, and Toni Tennille.
Maestro Shimada has had the good fortune to study with many distinguished conductors of the past and the present, including Leonard Bernstein, Herbert von Karajan, Herbert Blomstedt, Hans Swarovsky, and Michael Tilson Thomas. He was a finalist in the 1979 Herbert von Karajan conducting competition in Berlin, and a Fellow Conductor in the Los Angeles Philharmonic Institute in 1983. In addition, he was named Ariel Musician of the Year in 2003 by Ariel Records, and received the ASCAP award in 1989. He graduated from California State University, Northridge, studying with David Whitwell and Lawrence Christianson, and attended the University of Music and Dramatic Arts in Vienna, Austria.
Maestro Shimada has received the Portland Fire Department's Merit Award, the Maine Publicity Bureau Cultural Award, and the Italian Heritage Society Cultural Award. He has had a number of state and city holidays named in his honor: Toshiyuki Shimada Day in Houston, TX; Toshiyuki Shimada Week in Portland, Maine; and Toshiyuki Shimada Day in the State of Maine. In May 2006 he was awarded an Honorary Doctorate Degree in Fine Arts by Maine College of Arts. At Yale University he has been selected as a Fellow of Davenport College and a member of the Elizabethan Club.
He records with the Vienna Modern Masters label, and with the Moravian Philharmonic, and currently has fifteen compact discs on the label. He also records for Capstone Records, Querstand-VKJK (Germany), and Albany Records. His recording of Gregory Hutter's Skyscrapers has been released through the Naxos label, and his Himdemith CD project with pianist Idil Biret will be released in 2013. His Music from the Vatican with the Prague Chamber Orchestra and Chorus is available through iTunes and Rhapsody.
Maestro Shimada holds a teaching position at Yale University, as Associate Professor of Conducting with Yale School of Music and Department of Music. He has a strong commitment to music education, and has been a faculty member of Rice University, Houston, Texas; the University of Southern Maine; and served as Artist Faculty at the Houston Institute of Aesthetic Study. His is a favorite guest conductor with the orchestras of Ithaca College, Purchase College, and the University of Connecticut. He has conducted All State Honor and Regional Honor Orchestras for Connecticut, California, New York, Maine and Massachusetts. He was one of the distinguish speakers at the Chopin Symposium 2010, at Hacettepe University in Ankara, Turkey. He resides in Connecticut with his wife, concert pianist Eva Virsik.