YSO to Premiere Remote Performance of Philip Glass' "Overture to 2012"
Image: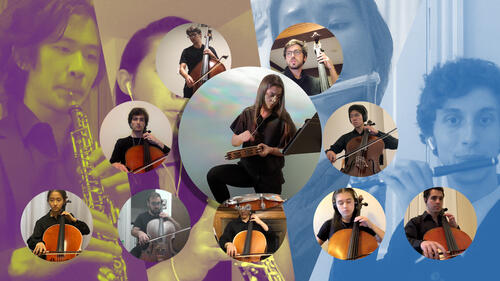 Body:
February 4th, 2021 at 7:30pm, the YSO will premiere a remote performance of Philip Glass' "Overture to 2012" on YouTube.
Link to the premiere is here: https://youtu.be/hSO8Cm34Pho
---
Philip Glass' Overture for 2012 was written for the 200th anniversary of the War of 1812 — it's a commemorative piece for a year in which our nation encountered violence, tragedy, and questions about whether or how freedom exists in the United States. The challenges we faced in 2020 have in many ways been similar.
Members of the YSO rehearsed and recorded this work individually from our bedrooms, scattered across the nation and world. The quickly shifting colors and flashing images in the video accompanying our performance combine with the minimalist work to illuminate the ways in which we've dealt with the ever-shocking fast pace of 2020's world events from, for most of us, the stasis of a single location, separated from those with whom we're making music.
We hope you enjoy this virtual performance, created to commemorate and reflect on this last year of unconventional music-making. We are looking forward to sharing other exciting projects we have been working on this past fall.