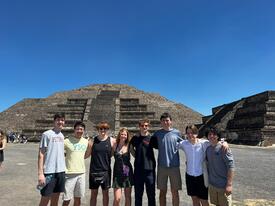 Since 1971, the Yale Symphony Orchestra has made every effort to tour regularly.  In our 50-year history, we have toured thirteen countries in four continents.  Anyone who has been on a YSO tour or heard us in the audience knows that these events have incredible value.
Musicians get the opportunity to experience performing in concert halls outside of Woolsey Hall, what it's like to play the same repertoire multiple times in performance, and the rigors of concentrated travel and performance.  Socially, there's nothing like a tour to bring YSO members closer together, which ultimately has an incredible benefit on the musical quality of the orchestra.
For our audience, we bring excellent classical music to audiences that may not get regularly exposed, and choose repertoire that will expand even the most experienced listener. During our 2013 tour of Brazil, we played concerts in cities large and small. We were overwhelmed by audience members approaching us after a concert to express their love of music they've never heard live before, and student musicians excited to see what they can aspire to.
For Yale, a YSO tour demonstrates the incredible quality of musicianship our university fosters.  In 2010, our tour of Turkey was a part of Yale Week in Turkey, where we were special guests along with the Yale School of Drama and Yale's Vice-President Linda Lorimer. Every time we set foot in another country, we are ambassadors for Yale.
Past YSO Tours:
1997 – South Korea
2001 – South Korea
2023 - Mexico